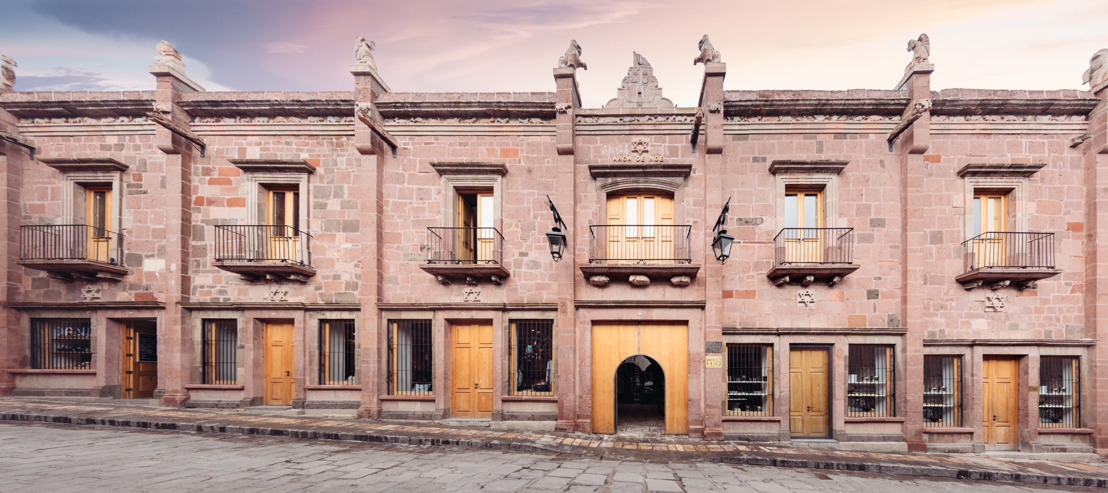 Dôce 18 Concept House
A space in the heart of San Miguel de Allende that concentrates the best of design, art, fashion, gastronomy and hospitality.
Monday, December 2, 2019 —

The destination located in the heart of downtown San Miguel de Allende that brings together the best in design, fashion, art, gastronomy and hospitality in an unparalleled experience that awakens the senses, the aromas, the textures, the flavors and the sounds. All in one place, Dôce 18 Concept House.

EAT

Discover a wide selection of options when it comes to gastronomy at Dôce 18 Concept House, from fine dining, to casual dining and even a grab & go area.

The Dining Room

At Dôce 18 Concept House, you can enjoy fine dining in understated and tasteful atmospheres, carefully designed to entice all the senses.

OLI Tapas by Vicente Torres

Discover the flavors of Valencia and Spain in our tapas bar by Chef Vicente Torres, his new project at Dôce 18 Concept House. A must try is its weekend menu that offers Valencian paella, arroz negro and fideua. Originally from Ibiza, Spain, a place recognized for its wide gastronomic offer that manages to awaken each one of the senses, he arrived in Mexico with the purpose of expressing its acquired knowledge thanks to its international experience. Vicente Torres, obtained the famous Michelin Star during his time at "La Sucursal" in Valencia, and in Mexico has been recognized with awards as "Best Chef Millesime 2011", "Best Chef Where to Go 2012" and received the award "Bohemian Distinction 2012 ".

https://www.instagram.com/oli_mx/

Casual Dining

Dôce 18 Concept House offers two options when it comes to casual dining, the Coffee Room which holds a and The Kitchen.

Birdie's Burgers

Birdie's Burgers is the permanent version of The Restaurant's delicious burger nights. Beef burgers raised naturally and fed 100% with local grass; without hormones and without antibiotics; French fries cut by hand and milkshakes.

Cent'anni Grill

Homemade Italian cuisine is the comfort food by excellence and Cent'anni's is a celebration of the nonas and of the fresh, local and organic ingredients.

www.centanni.com.mx

Naa.Na Cocina Fresca

Naa.Na, created exclusively for and by Dôce 18 Concept House offers a healthy, delicious and high quality menu, with fresh local products, in a warm and relaxed atmosphere. The menu that this great place offers its guests, is very varied and appeals to all tastes, with touches of Middle Eastern cuisine, in healthy recipes, hence the name "naana" which means mint in Arabic.

Panio

Panio is recognized as one of the best bakeries and pastry shops in Mexico, was born in San Miguel de Allende to put into practice recipes and techniques of Franco - Italian origin. The contemporary design space that Panio occupies within Dôce 18 is the ideal place to enjoy a short and well-worked cuisine dedicated to a particular product: bread.

Taco Lab by Tacolicious

Taco Lab by Tacolicious is a collaboration between two great friends: Joe Hargrave, founder of the popular restaurant group San Francisco Tacolicious, and renowned chef Donnie Masterton of The Restaurant in San Miguel de Allende. Taco Lab works as an incubator of taco ingenuity as well as the place of San Miguel to eat excellent tacos made with ingredients obtained in a responsible way, and margaritas as well.

Grab & Go

A selection of tasty products that you can enjoy at home, while at the Concept House or simply enjoy while you spend the rest of the day hitting the streets of San Miguel Allende. Our Grab & Go selection is your one stop shop, for quick and easy treats.

Le Macaron Boutique

Le Macaron Boutique makes macarons and gourmet desserts, always using the highest quality ingredients from Mexico and the world, with avant-garde pastry techniques by her founder Natalia Morales.

Olio Fino Tasting Room

Olio Fino Tasting Room offers an innovative gourmet experience where you can sample up to fifty varieties of world-class extra virgin olive oils and aged balsamic vinegars. Discover the distinctive characteristics of authentic extra virgin olive oils from world-renowned producers and explore a world of flavors that will enrich your cuisine and redefine your appreciation for these wonderful ingredients.

Spice Market

Spice Market offers the best mixtures of spices, condiments and seeds, both Mexican and the rest of the world. Dressings, blends, cocktails, infusions, salts, seasonings that provoke a unique tasting trip.

SHOP

Discover a curation of brands that represent the best in fashion, home and design and art, Mexico has to offer at Dôce 18 Concept House.

Fashion

When it comes to fashion, Dôce 18 Concept House curated a space to showcase the creations of Mexico's best designers as well as international designers who started their brands in San Miguel de Allende, or who in some way or another recognize Mexico as their fountain of inspiration and success.

Amor & Rosas

Amor & Rosas, founded by Laura Melendrez and Debra Broberg in 2016, is ethical fashion that looks to transform the lives of those who wear it and the lives of those who make it. Everything we do is under our social impact model and environmental sustainability best practices, with the objective of creating economic development in the rural areas of Mexico and minimize our environmental impact. Our garments combine artisanal embroideries and eco-friendly textiles with modern designs, creating authentic pieces for the socially conscious consumer. Up to date, we work with 98 artisans in 8 different communities in the states of: Hidalgo, Estado de Mexico, Chiapas, and Oaxaca.

Armour

Co-Founded and designed by Brianna Armour and Megan Martin in San Miguel de Allende, in 2015, Armour Jewelry draws its inspiration from the experience of light and shadow play in modern architecture and collected sculptural vintage pieces from Taxco.

Blackfin

Blackfin was born in 2008 under the precepts of being visionary, outstanding, and of opening their own path and creating a future of their own. Blackfin is the only brand in the world to works with titanium sheets of 5 tenth of a millimeter.

Josefina by Vero Solis

Josefina By Vero Solís is a Mexican brand that aims to merge the culture of our country such as traditions, icons of Mexico, colors and prints with the latest fashion trends. The quality of our garments is in the hand embroidery and that its decoration consists of rhinestones, crystals and applications that make them unique, all this with a mix of Mexican textures that give the chic and avant-garde touch that distinguishes the brand.

Laddu Accessories

Laddú is a lifestyle and accessories brand that makes high-design bags, made by expert hands, with materials that exceed the usual quality standards in this type of products. Laddú is guided by an integral concept that propagates its vision beyond the manufacture of clothing, leather accessories and shoes. Other products and special launches are added, among which are collaborations with important figures of art and design.

Deitx & Co.

Fine tailoring 100% Mexican with more than 60 years of experience. Suits and accessories for men as you have never seen, unique colors and textures, modern and exclusive cuts. Personalized attention in tailored suits for weddings or other events, live the experience of creating your own and exclusive outfits with us.

Pop-up at The Collection

Pop-up at The Collection is a curated collective of fashion and design brands by Dôce 18 Concept House that is constantly changing to truly show what Mexico has to offer. Pop-up at The Collection seeks to create awareness and offer a platform for the brands it presents.
Laddu
Sandra Weil
Raquel Orozco
Kris Goyri
Pajaro de cuerda
Dan Cassab
Macario Jimenez
Benjamin Rios
Shuviluna
Arquiste
True Beauty
The V Collection
Manik Chul
Amor y Rosas
Val de Valentina
MLM México
O'horan Lomelin – actual
Mr. Fox – actual
Romee Roin - actual
Zayda Tavarez + Lekuin – actual
Pantera – actual
Vanessa Drummond - actual
Regina Dondé
Regina Dondé reflects the simplicity of freedom and the freshness of liberty, emanating comfort and serenity through clean lines that reflect the casual elegance of simplicity and enduring quality. Her favorite ingredient when creating is always Mexico.
www.facebook.com/regina.donde.collection
Sangre De Mi Sangre
With Sangre de mi Sangre Mariana Villareal transmits passion and her personal way of seeing life in each of her pieces. Custom designs and iconic jewelry that reflect passion, originality and edge.
Toro
In 1956, the Osborne Bull was born in Spain, it began as a new advertising medium that over the years will become a universal design and icon of Spain and a milestone in the history of advertising. In 2008, the "TORO" brand was born as a new textile branch for this family. "TORO Collection" is part of the family of brands of the OSBORNE group.
Turia My Pearl
Turia My Pearl creates exquisite jewelry with Tahitian pearls, their collections allow pearl loves to reach very exclusive ocean gems from cast away farms with unbelieveble colors and quality.
TUTU Pearls
TUTU is just a kid with a world of imagination and a colossal amount of love to spread around the world. By creating TUTU pearls, she shares her passion and love for pearls to all woman that still believe in their dreams.
The Hat Shop
The Hat Shop is a fun corner where any visitor can pick a fine hat and complement their San Miguel look.
The Opal Mine
Live the experience of being in a REAL MINE in San Miguel de Allende and know the origin of the Opal. Company dedicated to offering life-long experiences with fine jewelry made of gold, silver .925 and .950.
Design & Home
No house is complete without the elements that make it come to life, the brands Dôce 18 Concept House has to offer truly represent the essence of the Concept House and bring to life its personality.
Ablu Botanica
Ablu Botanica is an artisanal bath, body and beauty company founded in San Miguel de Allende. Our botanical formulas highlight both the wild and cultivated resources of Mexico and are rooted in a belief in the sustainability of handmade products made in small batches with local ingredients.
Cerámica Estanzuéla
Cerámica Estanzuela is a factory of tableware and accessories made by artisans from Tlalpujahua in Michoacán, respecting their techniques and creating house designs with an unforgettable beauty.
Hilando México
Hilando México is a Mexican brand that fuses the work of artisans and contemporary designers, resulting in pieces of timeless beauty. Together with a community of women embroiderers in Yucatan, unique pieces are created using fair trade practices. The objects of Hilando Mexico enhance the Mexican embroidery technique with the highest levels of quality and design. The collection of unique pieces mainly includes cushions, armchairs and ottomans.
Las Rosas de Aurelia
Las Rosas de Aurelia, a brand with almost 20 years of experience in the flower design sector in Mexico. We create flower arrangements inspired in more than the flowers themselves and wishing to move our clients.
Ma Maison
At Ma Maison we know that details make the difference between the ordinary and something really extraordinary. That's where our passion lies. For more than 20 years we have been editors of the most beautiful and sophisticated interior design pieces from around the world. In Dôce 18 we have cured a collection of unique design objects, mainly supporting artisans.
The Library
Books give reference to be in the world, summon creativity and imagination. Dôce 18 Concept House offers a careful selection of art and children's books.
Art
Art is what gives a home its essence, it is a vehicle of conversation but also of continuous learning. The selection of art in Dôce 18 Concept House gives artists a platform to present their work along with other artists, but also allows visitors to engage and admire art in all its forms.
Carré D'Artistes
Carré D'Artistes® offers the same aesthetic experience in San Miguel de Allende as in its premises in Paris and other major capitals: it is art that approaches the person, the house, freely and without restrictions.
Art @ Dôce 18 Concept House
The art showcased in Dôce 18 Concept House is especially curated for the place and has included pieces by artists such as Pedro Friedeberg, Arantxa Rodríguez, Dulce Pinzón, Rafael de la Lastra, Cynthia Araf and murals by Esteban Fuentes de Maria and Guillermo Huerta. In the hotel rooms of L'Ôtel, pieces by the artists Maria Luisa Boullosa and Cynthia Araf are showcased.
DRINK
A drink, a friend, and a welcoming space make a perfect experience. Dôce 18 Concept House created just that, the place for meeting, sharing and enjoying.
Casa Dragones
Casa Dragones is an independent, small batch producer with a passion for creating exceptional tequilas, one bottle at a time. Each bottle is hand-signed and numbered, hallmarking our commitment to quality. At Casa Dragones, it is our love of the craft and meticulous attention to detail that ensures an extraordinary experience and the highest possible quality.
Champagne Lounge
Champagne Lounge sophistication and style in a relaxed space, which lends itself to a good conversation with a glass of bubbles.
La Santisima Trinidad
La Santísima Trinidad is a truly unique an exceptional concept where vineyards, olive trees, lavender fields, a professional polo field, a beautiful 6 room boutique hotel and bistro, that allow both its co-owners and visitors to live an exceptional sensorial experience.
www.lasantisimatrinidad.com.mx
The Bar
The ideal place to meet, continue with the experience started in a tasting or as a starting point before a dinner. Our mixologist knows how to surprise the senses and tell fascinating stories through different flavors and mixes.
Tipioka
100% Potosinian company dedicated to creating delicious personalized drinks, 100% original thanks to the incredible combination of the flavor of smoothies and frappés accompanied with the novelty and deliciousness tapioca. All products are elaborated based on fruit concentrates and 100% natural ingredients of the highest quality, in addition to offering hot drinks.
SLEEP
Dôce 18 Concept House is an experience within the proliferous San Miguel de Allende, and such an adventure cannot be complete without a lovingly curated place to stay.
L'Ôtel Group
L'Ôtel at Dôce 18 Concept House is a vibrant and stimulating getaway in the heart of San Miguel de Allende, housed in the iconic Casa Cohen, where contemporary designs and colonial architecture blend together to surprise guests with an unforgettable stay crafted to provoke restoration and enjoyment, from cloud-like beds, to unique art and luxurious baths.